Applying knowledge, introducing systems and building connections at the CIMA conference
There's nothing quite like being back in the room again with my CIMA colleagues and friends. That's where I found myself just last month at the 2022 CIMA MiP Conference for members in practice, surrounded by connections and inspiring advice.
The event encouraged us to 'Think Big!' and gave us a host of opportunities to do just that. We heard from speakers sharing the latest accounting software and guidance, covering topics such as Making Tax Digital, crypto currency and sustainability. We combined building our industry knowledge with talks encouraging us to grow our business and our presence, learning about personal branding, pricing services and looking good on LinkedIn.
It's testament to CIMA that I've come away from the conference having learnt lots and feeling incredibly inspired about what I can achieve for both myself and my clients.
Managing time efficiently
Taking care of our time is something I speak about often. I protect my personal time, knowing that looking after my wellbeing and balancing work and leisure is vital. I'm always telling my clients to do the same. Yet the CIMA conference reminded me there are ways I can be more efficient within my working hours.
Reducing lengthy processes was the first place to start so I've implemented some automation tools to boost productivity. One of these is Calendly, where you can book meetings with me quickly and easily without waiting for email replies. It's helping me support more people and links to my Zoom and Teams accounts too.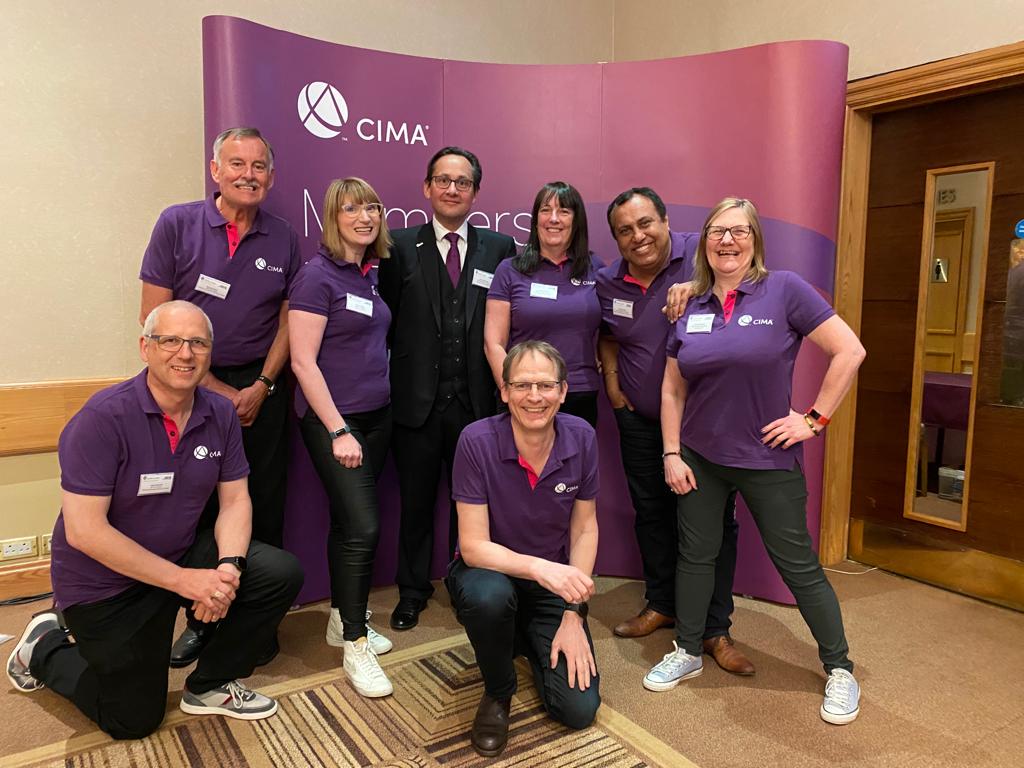 Adopting new processes
Things are ever changing in the world of finance and my CIMA membership is one of the ways I make sure I'm always up to date. We had an update on anti-money laundering and one of our conference sponsors introduced one of the latest developments in software: Xama Technologies. This anti-money laundering software helps with ID checks when onboarding new clients. Of course, I've brought that into Not Just an FD to ensure I'm compliant for record keeping for present and future clients.
I've created a Linktree account so my contact details are all in one place. It makes it easier to get in touch with me and find the things I'm sharing that might benefit you. I wanted to continue to boost my opportunities for connection once back home from the conference as much as possible, so I've also put together a business page on LinkedIn to reach and help more people. Please follow my page!
Connecting with others
These practical processes I've brought on board are great, both for my own sense of fulfilment and the ways I support my clients. But the most important thing I took from my time at the CIMA conference was the real sense of connection and belonging.
I'd only met some of my fellow MiPs via Zoom so it was wonderful to finally see them in person. I also connected with old CIMA friends after the last few years away from face-to-face conferences. I loved catching up with them (and we partied well!). I hosted a table at the gala dinner on opening night, chatting to new people, sharing experiences and getting chance to let our hair down a little after an engaging first day.
CIMA's Members in Practice annual meeting took place in mid-June, where I'm delighted I was re-elected to the CIMA Members in Practice Committee as secretary for a second three-year term. I'm so proud my colleagues chose me to continue to support them. It's a role I'm truly committed to.
Being part of CIMA gives me access to incredible resources, a wealth of knowledge and updates on processes and systems I can introduce into Not Just an FD. Yet for me CIMA is – and always will be – about the exceptional community and connections that inspire and motivate me in everything I do.
The links below takes you straight to my contact page:
https://www.notjustanfd.co.uk/contact/